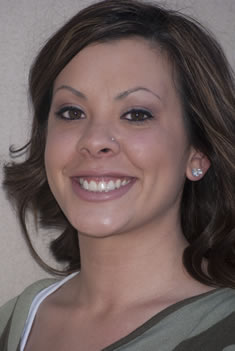 As a young teen I always loved doing hair. I always was dressing my older sister up and making her look beautiful, and she loved it. She was a trooper and part of my inspiration. I styled so many of my friends hair for prom and special occasions, and they loved the results…and so did I. At that point I realized I had a special talent that I could share and enjoy.
I have been doing hair professionally for 5 years now, and simply love what I do. and so will you!
Some history… Recently I was a manager at another salon for 3 years where I was also a stylist.
Prior to all that, I was in school at the Academy of Cosmetology and Arts where I apprenticed under a stylist for 2 years .
My philosophy is that education is everything, so I continue to further my skills and techniques by regularly attending classes on what's new and in style, and most importantly, listening to my customers.
Some recent classes I have taken are Art of color and movement parts 1 and 2. I've also taken Crew Men's cutting classes. In addition, I have taken classes on Schwarzkopf, TIGI, Goldwell, Loreal professional, Kevin Murphy, It's a 10, and more. I specialize in Color of any technique, such as women's hair cutting, men's clipper cuts, hot head hair extensions, feather extensions, waxing of any area for men or women, and Brazilian blow outs, wedding hair and up-do's…. You name it!… I look forward to providing you with the most amazing services available.
Love, Karina